Lenz - The Specialist for Ground Joints
The Lenz® range of ground joint instruments
With decades of experience, advanced technological know-how and the outstanding properties of DURAN® glass we guarantee the proven quality of our precision ground joints.

The Lenz® range of ground joint instruments includes conical joints, stopcocks, ground joint flasks, separating and dropping funnels as well as a large range of ground joint components.

Quality with system
Lenz® ground joint instruments are produced according to the standard DIN 12242 / ISO 383. Each production step is tested by a quality management system, based on DIN ISO 9001 / EN 29001. The tests are examined by a cone measuring device for checking the taper, a surface roughness meter for testing the roughness parameters and a wall thick­ness measuring apparatus with a magnetic inductive measuring process to guarantee a homogenuos concentricity and wall thickness.

A multiple-station unit serves for grinding as well as for pre- and post-polishing of our ground joints. An electro-mechanical scanner ensures constant quality. In cases of specific high demands on function and precision the grinding is processed by hand.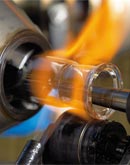 Production of ground joint workpieces made of DURAN® tubing on fully automatic glass forming machines.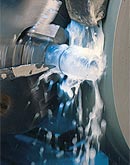 The follow-up processing of NS cones on half- automatic circular grinding machines.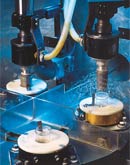 The pre- and post-polishing of NS sockets takes place on multiple station grindig machines.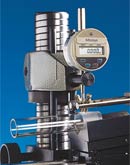 Conicity testing: the accuracy of the ground joints is validated by highprecise cone measuring devices.
Product features
•
High taper accuracy of the cones
•
Precise concentricity
•
Small roughness of the surface
•
Excellent tightness
•
Minimized need for grease
•
No bend out of line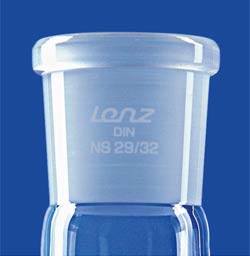 Our ground joint instruments are marked
with the Lenz logo and indicate the
respective size of the ground joint.
Conical ground joints acc. to DIN 12242/ISO 383

Nominal size
(NS)
Cone/socket Ø1 (mm)
Cone/socket Ø2 (mm)
Length (mm)
5/13
5
3,6
13
7/16
7,5
5,8
16
10/19
10
8
19
12/21
12,5
10,3
21
14/23
14,5
12,1
23
19/26
18,8
16,1
26
24/29
24
21
29
29/32
29,2
25,9
32
34/35
34,5
30,9
35
45/40
45
40,9
40
60/46
60
55,3
46
71/51
71
65,8
51
85/55
85
79,4
55
*approximate measures